What does it mean to dream? Why should we even bother dreaming when we know we might fail? Wouldn't we be better off if we just settled for what is comfortable and easy?
The older I get, the more convinced I have become that the human spirit is created to dream, to imagine, and to create the future. We were, after all, created in the image of the Grand Artist. If we do not have creativity running through our veins, how could we even be called His image bearers? Every human being who has ever existed is creative, even if we bury it down deep in the shadows of practicality.
"There are only two ways to live your life. One is as though nothing is a miracle. The other is as though everything is a miracle." — Albert Einstein
In 2006, I was riding the subway in Chicago and reading a book about pursuing the dreams burning deep within the soul. It stirred something within me that I couldn't ignore: my love for God and my love for the arts.
In fall of 2006, I found myself moving to Los Angeles in pursuit of an acting career. God had called me, I am sure…It was so certain that He wanted me in that place and time. Yet, what resulted was a severe battle with brokenness, rejection, failure, and heartache. In 2008 I moved home to Charlotte, feeling like a complete loser. Friends and family had been rooting for my success, but I completely blew it…In my eyes, I had lost credibility…I was damaged goods.
2008 was the worst year of my life…
Fast-forward to 2016. Writing has won my creative soul. The most lovely girl in the world is my wife. I've found so much healing from my personal battles. If I'm being honest, I'm not who I was in 2008 and I'm OK with that.
Dreams don't always come true, but we must never forget how to see the future through eyes of imagination and wonder.
Without pursuing my dreams of acting, would I have discovered my love for writing? Would I have met Beth in a coffee shop, serving her a chai latte? Would I have found the same degree of healing from my brokenness without my incredible counselor?
We often discover our true callings when we step into the unknown, even when those steps may lead to a broken heart.
Oftentimes, dreams are not the destination, but rather the pathways to discovering our true callings.
"Do not go where the path may lead; go instead where there is no path and leave a trail." – Ralph Waldo Emerson
What dreams keep you awake at night?
Who do you long to become?
Failing at a dream doesn't make you a failure; failing at a dreams means you believe that there is more to life than just existing. Remember: one failed dream can often lead towards another dream's awakening.
You were created for more than just getting by; you were created to change the world, even if that is simply the world within someone else.
Dream. Risk. Create. Imagine. Live in wonder. Failure is just the beginning of the journey, not the end.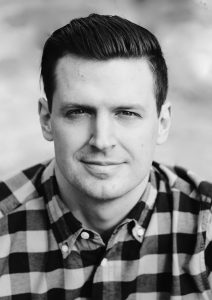 Andrew Voigt is a writer currently living in Charlotte with his wife Beth and their orange cat, Pumpkin. After spending two years in Los Angeles pursuing a career as an actor, he returned with unmet expectations and broken dreams. Prompted by a close friend, he began writing about his journey – one that is filled with dreams, anxiety, depression, faith, doubt, hope, and the constant struggle with grace. He holds a B.S. in Communication Studies from Liberty University in Virginia and has studied acting at the Film Actors' Studio of Charlotte. 
Twitter: AndrewVoigt  Instagram: andrewvoigt
Facebook: facebook.com/andrewvoigt.me 
Website: andrewvoigt.me